Hello! How are you this fine December day? It's Triple T Tuesday on the
Trixie Scraps Blog
, and I'm wrote out some tips and tricks. I'm offering a little freebie, too! I thought I would share all of that here as well...
I was asked to share how I create my two-page layouts. Well, way back when, shortly after I started digi-scrapping, I read a tutorial that talked of "flow"…that particular tut was referring to putting your pages together in a book, and how the colors, story or elements on each page should flow together. At the time, I was only doing single page layouts, and so I started mixing up my pages as if I was putting them in a book…looking for that flow. Pretty nearly at once I realized if I focused on "flow" I was losing the chronological order of my pages – well, I couldn't have that! lol That is when I decided to do double-page layouts…so I could have the "flow" and not lose the chronological order of things.
Right, there's some background for you… This is my typical procedure… I pick my photos and my kit and if I want to, I grab a template. Sometimes I use the same template on both halves, sometimes I use two different templates. If I want to use the same one, I will rotate or flip it for the second page so that they are not identical.
Here's an example using
City Girl
and
Renaissance Romance
by Trixie Scraps:
As you can see, I've used pretty much the same papers and elements on both sides of the page, but they look a bit different because the one template has been flipped/rotated. Sometimes the flip is obvious as in the above example…and sometimes not so obvious as in the example below which uses the Trixie Scraps kit
Autumn on the Lake
:
And then a third option is to switch out the papers of the second page – you can do this whether you've used the same template or not. When using the same kit, why not get the most bang for the buck by using a variety of papers! If you like the stacked paper look for a background, simply rearranging the order of the stack can give a very different look to each side…see the two examples below…
I used
Take Me Away
to create this one:
This one was done with
Sunday Afternoon
If you are using two different templates you don't have to flip or rotate one…unless you want too! (And there will be times you'll want too, but I'll save that for another time.)
Once I have the general design of my page down, I move on to elements and their placement. Sometimes a ribbon or a scatter crossing from one page to the next is a nice way to tie the pages together. I generally using the same elements on both sides, with maybe one unique element added in on each side. If you look again at the above example, you can see what I mean.
I'm hoping that was clear and straightforward! If you have any questions, I'd love to hear from you…you can pm me in the
ScrapMatters forum
, and I'll be happy to talk with you further!
And now on to the freebie I mention at the beginning… (did you think I forgot?) As you know, Trixie Scraps in hosting a December Daily Album with prompts and freebies everyday, all month long! I've been working on my album, and I LOVE it! If you are just learning about this, you'll want to
view this post for more information
. To go along with all the freebies, here's my December 21 Daily Download - a frame cluster created with a kit made especially for all the December Daily participants! Hope you enjoy it!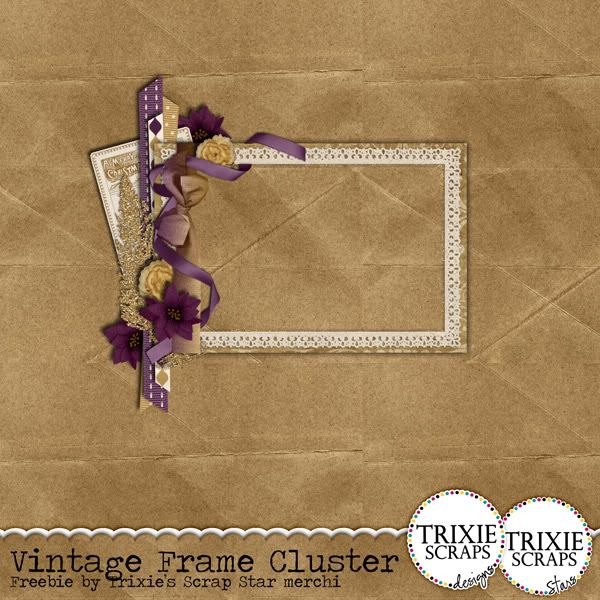 Download here
– please remember, the link will expire in 48 hours.
Merry Christmas, everyone!
Blessings, *Ü* Karen