WOOT! I've just been given the NEW coupon code! So, if you've already used the NDIDDS_B2G1, you are in luck...the new code is for 30% off any combination of papers and elements for NDIDDS kits. Minimum purchase of $4.00 is required. Valid until Friday, June 12th. Coupon can be used 1 time at each store. That is such an awesome deal!
Click HERE or the ad to go to my Designs in Digital store.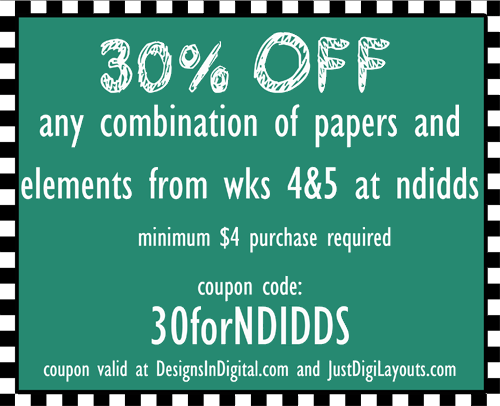 Thank you to Day of Days Digidesigns for the ad graphic.
Today I was playing with my By Gone Days kit, and expanded my QP into a full two page spread. My original collab partner is no longer at the same store with me, but she gave me permission to fill out the kit and sell it as mine! Yay! I do so love this kit.
It is now available at Faith Sisters here.
The quick page freebie is there as well.
Here is the two page spread I did with this kit:
These are my paternal grandmother's parents circa 1913. I am pretty sure these were wedding or engagement photos. They immigrated to the US in 1914 on the Carpathia and settled in Detroit.
Here are the close ups...
and
Here's a preview of the full kit and
one more link to the store
:
Happy Friday!
*Ü*
Karen
Why not visit my store front?